Delta Apologizes After Passenger Sat In Dog Feces On Flight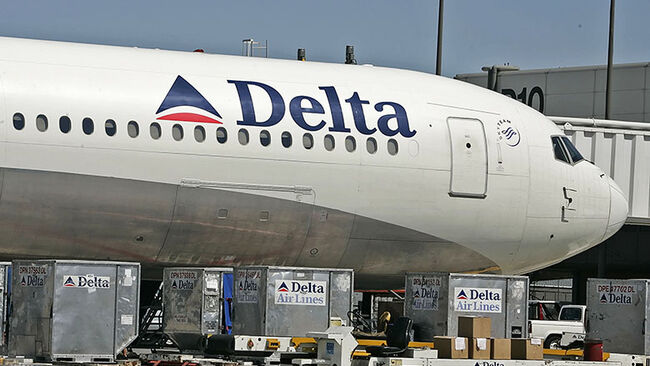 A passenger on a recent Delta Air Lines flight from Atlanta to Miami had to do everything in his power to keep his cool after he sat in a pile of dog poop that was left behind on his seat. Matthew Meehan did not realize the poop until it was too late and he was "literally in it."
Meehan told WXYZ that the flight attendants offered very little help after he told them what happened. When he and the passenger sitting next to him said something, they gave him some paper towels and a mini bottle of gin.
"I have no idea why I wasn't offered something from the biohazard kit to clean myself up with. Instead, I was handed two paper towels and one of those miniature bottles of Bombay Sapphire, a bottle of gin to clean myself with," Meehan said.
He explained that he was very angry but knew that if he lost his cool, he could be kicked off the flight.
"I had to step back for a moment and say, alright, keep your composure. You do not want to be one of these people you see on the news getting kicked off a plane. Meanwhile, I'm covered in feces," Meehan said.
Meehan then went into the bathroom and took photos of his shoes, which were caked in dog feces. He shared them on Facebook and offered more details about what transpired.
Is this even legal? This is a HEALTH CODE VIOLATION! Delta was made aware of the FECES from the prior flight before MY flight boarded and no one checked to see if it was clean, I was allowed to board unknowingly and SAT IN IT covering myself in sickness and disease. No apology, no care, and was told to deal with it by Atlanta Red Coat. I'm shaking. I'm disgusted. I'm horrified.
Meehan and his seatmate laid down blankets to cover the feces and dealt with the disgusting situation for the nearly two-hour flight.
When they landed the plane was taken out of service and disinfected.
Delta apologized and offered Meehan a full refund plus additional compensation. The airline blamed a sick service dog for the feces.
"On Nov. 1, an aircraft operating flight 1949 from Atlanta to Miami was boarded before cleaning was completed following an incident from a previous flight with an ill service animal. Delta apologizes to customers impacted by the incident and has reached out to make it right, offering a refund and additional compensation. The safety and health of our customers and employees is our top priority, and we are conducting a full investigation while following up with the right teams to prevent this from happening again. Upon landing in Miami, the aircraft was taken out of service to be deep cleaned and disinfected," Delta said in a statement.
Photo: Getty Images